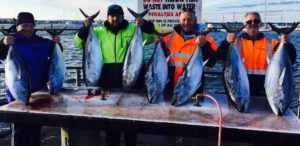 It's been a busy month on our Portland tuna charters so far!
We headed down to Portland in mid-April, being a few weeks earlier than the norm for us. We heard mixed reports on the tuna, however still the consensus was that the tuna fishing was slow going.
Our first week was great. We managed to bag out most trips or just a few short off our limit. It was not the fast-paced triple hook ups we've been accustomed too, however plenty of hours and hard work was needed to get the results.
As the season has progressed the tuna have moved in closer and we are finding 3 and 4 way hook ups are becoming the norm again. Now being mid-season, it is prime time, the tuna fishing is awesome!
With so much tuna around we have been eating tuna a plenty, from raw sashimi, pickled, crumbed and BBQ, you name it, we've probably tried it.
Fishing for the Southern Blue Fin tuna is the best game fishing Victoria has to offer and now is the time to hook up and feast on these beauties!
For more info about our Portland Fishing Charters, call Gone Fishing Charters on – 0409 007 068 or email info@gonefishing.com.au