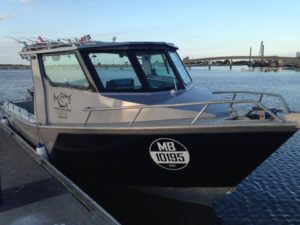 Portland Fishing Charters
What a mixed season it has been this year!
Starting off slow, however with some hard work and effort we still managed to get our bag, it just took time and patience.
Around mid-May the tuna started moving in closer to shore.  It was on, the Portland action packed days we were accustom to where back, making 3 and 4-way hook ups the norm again!
However, our final week in Portland was tough.  Green water had moved in and seemed to have turned the fish off. It took a week for the water to move out again, by then it was July and our time to head back home, of which marked the end of an era for Gone Fishing Charters, with it being Masai's last tuna season in Portland.  Our new vessel will be well and truly run in by next year and ready to take on the Southern Blue Fin Tuna!
Being out on the water all day chasing tuna is an exceptional experience, but when you add a great group of people to the mix, it can provide a day full of laughs and plenty of entertainment. So, a big thank you to all our customers who made our day that much more enjoyable!
Queenscliff Fishing Charters
We are back running our Queenscliff Fishing Charters, which for those who don't know can also pick up from Portsea, to accommodate those living on the other side of Melbourne.  At the moment, we are chasing gummy's off shore (Bass Strait) with great results and we are anticipating the snapper to follow within the next month.
What's new at Gone Fishing Charters
Our new vessel, whose name is yet to be revealed, of which we are getting mixed reviews from family and friends, but we like it, it has a great meaning behind it, so we are rolling with it.
We have also been asked to give our Queenscliff fishing reports on Reel Adventures with Aaron Habgood and Patrick Dangerfield. That's been a different experience for us, getting out of our comfort zone, but we think we did well, they have asked us back, so that's a good sign, we think!
You can keep up to date with regular fishing updates and the build of our new boat on our facebook (https://www.facebook.com/gonefishingcharter/)  and Instagram (@gonefishingcharters).