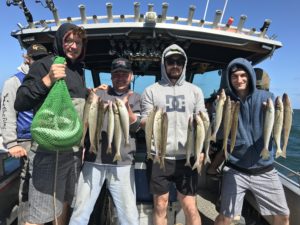 It's been a great season down in Queenscliff this year and now we are setting our sights on heading back down to Portland on the tuna!
Port Phillip Bay has provided a ripper season on the pinkies and whiting and with the great weather continuing hopefully they will see us through to Easter. The whiting have been nice and chunky coming in at a constant 38-44cm and we have found the new Shimano Stratics have been a great tool.
We have to also mention that Bass Strait turned it on for us this season, with plenty of gummy and mako action, which always makes for a great day out.
We are now looking forward to Portland and chasing the Southern Blue Fin Tuna. Heading down to Portland after Easter and having had a ripper of a year last season and we are hoping for an even bigger one on the tuna this year! Cheers to a great tuna season!