Our 8 hour Portland Fishing Charters is all about chasing the Southern Blue Fin Tuna!! Experiencing the Portland Tuna Charters is like no other as we head out on Victoria's Continental shelf in search for the elusive tuna. From late April until end of July Victorian anglers can tangle with these high speed, hard fighting oceanic wanderers.
Idea for Southern Blue Fin Tuna
We supply all bait and tackle and bag all the fish for you
20th April to end of July
Departs Portland 7.30am
Light lunch provided
Poseidon will be based in Portland during the Portland Tuna fishing season.
Poseidon takes up to 7 people (plus 2 crew) and up to 8 people on our private charters
From $300 per person weekdays and $350 per person during the weekends and public holidays.
We offer both Private charters and for individual or small groups we have our shared charters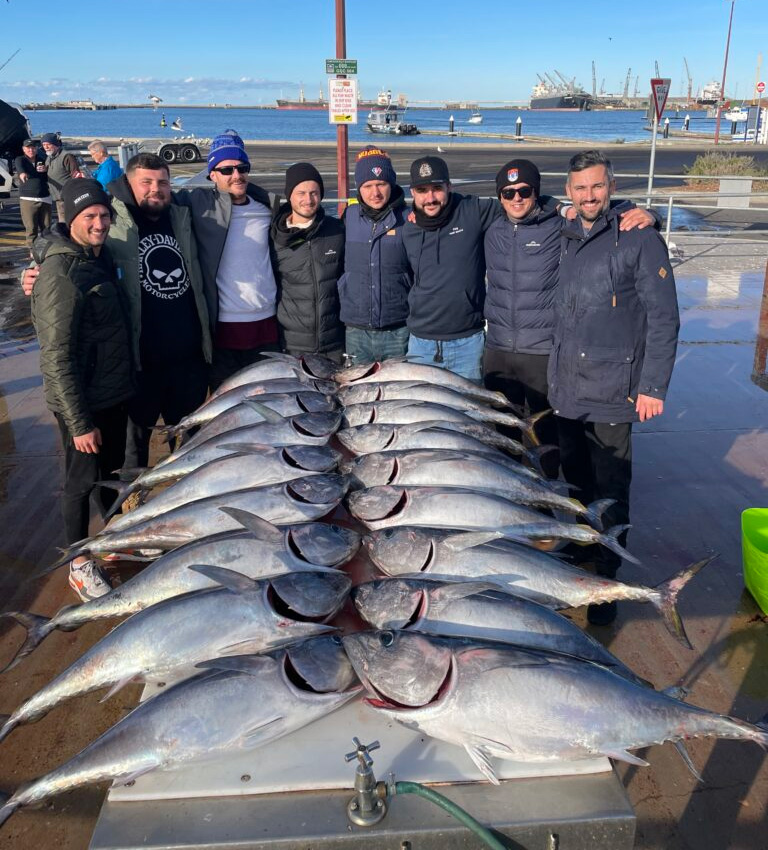 Book Online
Select your date to search for availability for the Portland Fishing Charter. Please note this charter is only available from 20th April to end of July. For bookings outside these dates see our book online page to choose from our other fishing charters. Please read our charter terms and conditions before booking.
Searching Availability...
Want to know more?
If you'd like to know more before booking simply call us on 0409 007 068 or fill out the enquiry form.
We've also covered some of your common questions in the FAQs section of this page.
Common Questions about Portland charters
Where does the charter depart from?
Portland Boat Ramp, Lee Breakwater Road, Portland VIC 3305
Do we need a Victorian Fishing Licence?
Yes. As a requirement of the Victorian government all anglers, including clients on fishing charter vessels, are required to obtain a Recreational Fishing Licence prior to their charter. See Recreational Fishing Licence for more details.
What do I need to bring?
Check out our FAQs for what to bring and more handy info.
Photo Gallery