►Light Tackle:
On board our vessels you are offered the very best in fishing gear and tackle. For squid and whiting we use Shimano Stradic 4000's coupled with Tipan rods.
Reels are for both left and right-handed anglers. All gear is maintained impeccably, allowing you to tackle the hardest of fighting fish knowing your gear will not let you down.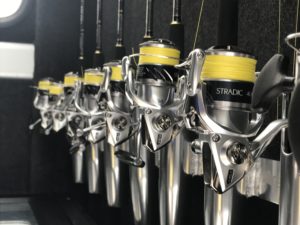 ► Medium and Heavy Tackle:
For medium gear whilst fishing for snapper and gummy shark we use Shimano Saragosa 6000's and 10,000's on Tipan rods.
For heavy tackle fishing (targeting tuna, king fish and shark) we supply Shimano Tiagra 16's, 30's and 50's coupled on game rods. We have multiple 10kg, 15kg and 24kg outfits on board at all times and of course you are welcome to bring your own favourite outfits if you wish.